Tuning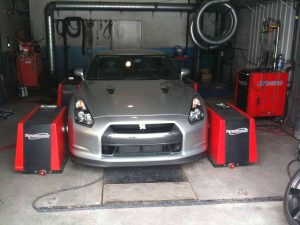 With our AWD Dynopack and 2WD roller Mustang dyno, calibration is possibly the most critical aspect of any project.  Ensuring that calibration and the mechanical stability of your vehicle are harmonious is our top concern while tuning your project.
From a showroom stock vehicle, to a fully modified race car with a complex Stand Alone, we are very able and up to any challenge that you may present to us. We have access to most ECU's in most vehicles now this includes Diesel performance, Import perormance or Domestic performance. Call us for an update on how we can help you.
From the choice of ECU, to setup, to wiring, we have been at the forefront of many companies growth. Not only have we installed and tuned thousands of vehicles and setups, but we have been working hand in hand with ECU developers for over two decades. Our knowledge base and expertise is simply unmatched, and with over 30, 000 hours of Dyno Calibration time between our two Calibrators, you are ensured we take our time to not only make safe power, but more importantly, perfect and smooth drive-ability with excellent "daily driver" characteristics that exceed OEM standards.
With dyno's that run all year round, due to our climate controlled room, you can call us now to experience your car for what it was meant to be.
TUNING RATES
2wd Dyno Tuning $220.00/hr
Plus $50.00 set up fees and up to $50.00 for sensor hookup fee
AWD Dyno Tuning $265.00/hr
Plus $65.00 set up fees and up to $50.00 for sensor hookup fee
BASELINE RATES
We can also perform what's called a Baseline run on your vehicle.  This is where we hook your car up to our dyno and will give you the current horsepower and torque that your vehicle is at.
2WD Baseline $150.00
AWD Baseline $200.00
This includes 3 runs and set up fees